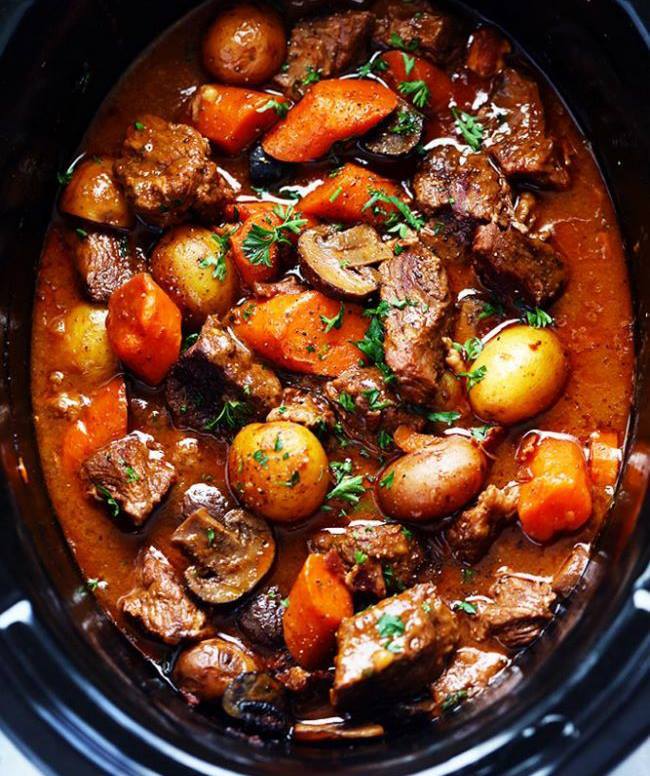 Boeuf bourguignon is so much more than just another beef stew.
serving: 8
Ingredients
1 1/2 pounds lean beef chuck, cut into bite size cubes
1 pound russet (Idaho) potatoes, peeled and chopped into large cubes
2 carrots, chopped into 1/2 inch thick slices
2 stalks celery, thickly sliced
3 tablespoons olive oil, divided
1 rosemary sprig
1 teaspoon dry oregano
1 pound white button mushrooms, halved
3 thyme sprigs
1 bay leaf
2 cloves garlic, minced
3 tablespoons white whole wheat flour or all purpose flour
1 cup low-sodium beef stock
3 cups pinot noir
10 pearl onions, halved or 1 medium yellow or white onion, diced
1 teaspoon kosher or sea salt
1/2 teaspoon black pepper
Directions
Sprinkle beef cubes with 1/2 teaspoon salt and 1/2 teaspoon pepper. Dredge in flour to coat.
Put 1/2 tablespoon of olive oil in the pan over medium high heat. Add half the beef cubes and brown on all sides, for about 5 minutes. Repeat with the second batch. Set the beef aside.
In the same pan that the beef was browned in, add 1/4 cup of the wine and scrape the bottom, allowing some of the liquid to evaporate. Add herbs, mushrooms, pearl onions or diced onion, celery, carrots, and 1 more tablespoon of olive oil and cook for about 5 minutes. Add garlic and cook for an additional 30 seconds.
Pour everything from the pan into the slow cooker. Add the rest of the wine, the stock, the rest of the salt, the bay leaf, the potatoes, and beef cubes. Cook on high for 4- 6 hours or low for 8 hours.
Enjoy!
Nutrition Information:
SmartPoints: 8
Calories: 310
Fat: 10g
Saturated Fat: 2g
Sodium: 141mg
Carbohydrates: 19g
Fiber: 3g
Sugars: 3g
Protein: 23g
Recipe Notes
Choosing the wine: I love pinot noir for this dish, but wines from Burgundy or Côtes du Rhône are also excellent. When in doubt, choose a wine that you also like to drink and you can't go wrong.
Chicken vs. beef broth: You might think beef stock would be a natural choice for this recipe, but I often find store-bought beef stock to be too tinny tasting. Unless you make your own beef stock, I recommend using chicken stock in this recipe.
Make-ahead tips: The meat and vegetables can be prepared the day ahead and simmered the next day. The prepared stew can also be refrigerated and then warmed over low heat the second day — this is a stew that is often even better the second day.