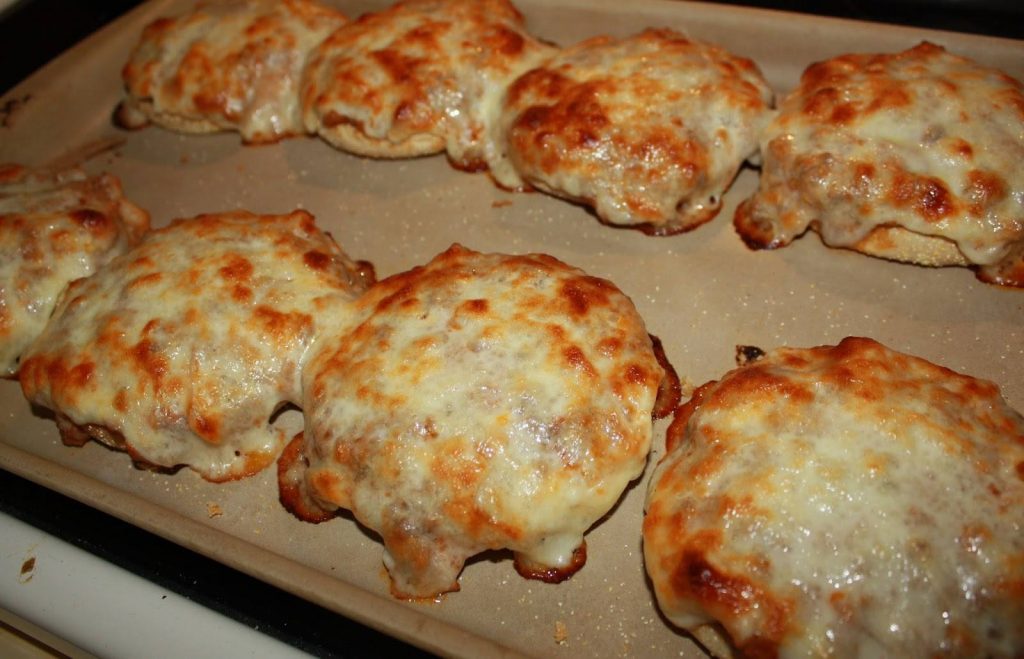 Ingredients:

1 med onion chopped
1 tsp  cooking oil
1 lb lean ground beef
1 can(s) (10)oz tomato soup
1/4 c water
1 Tbsp italian seasoning
3 Tbsp butter
1 Tbsp garlic salt
32 slice pepperoni (chopped)
2 c shredded mozzerella
Directions:

1 Start by adding the onions and a drizzle of canola or vegetable oil in a large skillet on medium high heat.
Heat through. Add the ground beef and cook all the way through,.
Once the meat is cooked,add chopped pepperoni, add the tomato soup, water and pizza seasoning.
Reduce to low and let simmer.
2 While the meat and sauce are simmering, preheat the oven on broil and spread the butter evenly on each
English muffin half. Sprinkle with garlic salt.
Pop these under the broiler on a cookie sheet for about 2 minutes or until they begin to brown just on the edges.
3 Take out of the oven and top each English muffin with about 1/4 cup of the meat and sauce mixture.
Top each of those with the cheese.
Place back under the broiler for another 2-3 minutes or until the cheese turns golden brown and bubbly.
Enjoy!