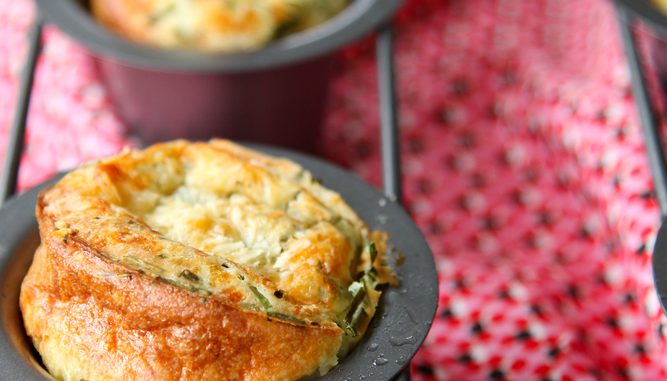 Easy Garlic Parmesan Popovers
Butter and garlic… the smell alone makes smile! These are the perfect complement to any meal. There is one caveat; it will be hard to restrain others, or yourself, from eating them all!!
Ingredients:
2 tablespoons bacon fat
1 1/2 cups milk, at room temperature
3 large eggs, at room temperature
1 1/2 cups all-purpose flour
1 tablespoon chopped fresh chives
1 clove garlic, minced
1 teaspoon garlic powder
1 teaspoon salt
1/2 teaspoon dried basil
1/4 teaspoon ground black pepper
2 tablespoons unsalted butter
2 tablespoons freshly grated Parmesan
Directions:
Preheat oven to 425 degrees Fahrenheit —  Place a popover pan into the oven.*
In a large bowl, whisk together milk and eggs until frothy, about 1 minute.
Whisk in flour, chives, minced garlic, garlic powder, salt, basil and pepper until just incorporated.
Remove popover pan from the oven and generously grease with bacon fat.
Working quickly, fill popover pan half full with egg mixture.
Place into oven and bake for 25-30 minutes, or until golden brown.
Serve immediately with butter and Parmesan.
Nutrition Facts
Servings 6
Amount Per Serving – 1 popover
Calories 255
Total Fat 11.5 g
Cholesterol 108.4 mg
Sodium 487.4 mg
Potassium 40.8 mg
Total Carb   26.9 g
Protein         9.7 g
Vitamin A        9.1 %
Vitamin C        1.6 %
Calcium           12.5 %
Iron                   3.2 %
* The Percent Daily Values are based on a 2,000 calorie diet, so your values may change depending on your calorie needs. The values here may not be 100% accurate because the recipes have not been professionally evaluated nor have they been evaluated by the U.S. FDA.