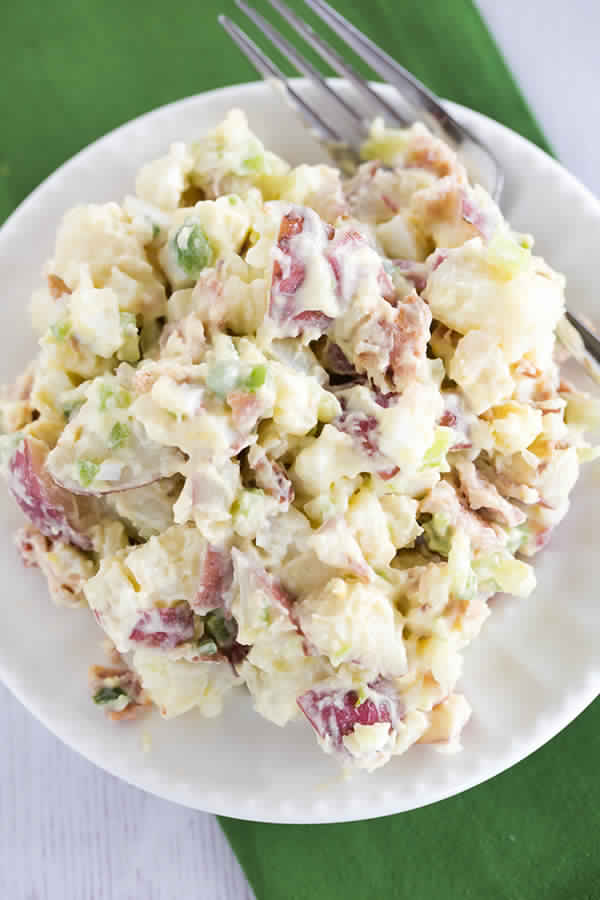 The BEST EVER Potato Salad recipe from a friend's grandmother, with a special secret ingredient in the dressing! It converted me from being a potato salad hater to a potato salad lover!
Ingredients:
1½ pounds red potatoes, cut into small cubes (about 4 cups)
1 (12-ounce) package bacon, cut into 1-inch pieces
¾ cup (170 grams) mayonnaise
1 tablespoon Dijon mustard
2 teaspoons granulated sugar
1 teaspoon salt
4 hard-boiled eggs, peeled and chopped
1 stalk celery, finely diced
1 small yellow onion, finely diced
½ medium green pepper, finely diced
Directions:
Boil the potatoes until they are fork tender. (If you're not sure how to boil the potatoes, this is a good resource.) Drain the potatoes and set aside.
Meanwhile, cook the bacon in a skillet over medium-low heat until crisp. Remove bacon with a slotted spoon and place on a paper towel-lined plate to drain. Pour off all but 2 tablespoons of the bacon drippings in the skillet and remove the pan from heat.
Add the mayonnaise, mustard, sugar and salt to the reserved bacon drippings in the skillet and whisk to combine.
In a large bowl, combine the potatoes, eggs, celery, onion and green pepper. Pour the dressing over the ingredients and gently stir to evenly coat. Stir in the bacon.
Cover and refrigerate for at least 3 hours before serving. Leftovers can be stored, covered, in the refrigerator for up to 4 days.