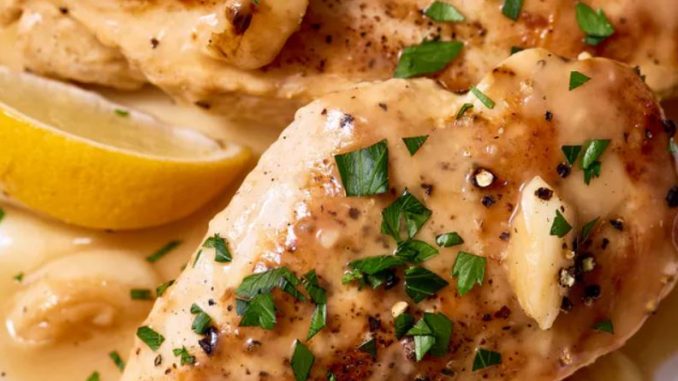 Serves 4
INGREDIENTS
1 tablespoon olive oil
4 boneless, skinless chicken breasts (about 2 pounds total)
1/2 teaspoon kosher salt, plus more for the chicken
1/4 teaspoon freshly ground black pepper, plus more for the chicken
1 cup low-sodium chicken broth
1/2 cup freshly squeezed lemon juice
8 cloves garlic, smashed
2 tablespoons unsalted butter, at room temperature
2 tablespoons all-purpose flour
Chopped fresh parsley leaves (optional)
PREPARATION
Heat the oil in a large skillet over medium heat until shimmering. Liberally season the chicken breasts on both sides with salt and pepper. Place the chicken in the pan and sear until browned on the bottom, about 5 minutes.
Transfer the chicken seared-side up to a 6-quart or larger slow cooker in a single layer. Add the broth, lemon juice, and garlic. Cover and cook on the LOW setting until the chicken is cooked through, tender, and registers 165°F on an instant-read thermometer, 3 to 4 hours. Meanwhile, place the butter and flour in a small bowl and use your fingers to rub the flour into the butter; set aside.
Transfer the chicken to plates or a serving platter. Pour the liquid and garlic from the slow cooker into a small saucepan and bring to a boil over medium-high heat. Add the butter mixture and whisk constantly until completely incorporated into the sauce. Cook, stirring frequently, until the sauce is thickened, 3 to 4 minutes. Pour over the chicken, sprinkle with parsley if desired, and serve.
Recipe Notes
Storage: Leftovers can be stored in an airtight container in the refrigerator for up to 4 days.