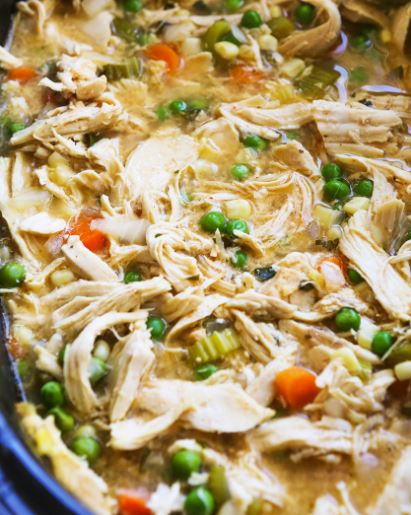 Ingredients:
4 chicken breast halves
1 yellow onion, chopped
1 1/2 cups chopped carrots
1 1/2 cups sliced celery
1/4 cup flat-leaf parsley, chopped
1 teaspoon paprika
1 teaspoon dried oregano
1 teaspoon each of salt and pepper
8 oz. chicken-flavored cooking stock
Two 10.5-oz. cans cream of chicken soup
1 1/2 cup frozen peas
1 1/2 cup frozen corn
16.3-oz. can big refrigerated biscuits (8 count)
Instructions:
Place chicken breasts in a large slow cooker. Add onion, carrots, celery, parsley, paprika, oregano, salt and pepper. Pour chicken stock and chicken soup over top. Stir mixture on top of chicken, cover crockpot and set to cook for 8 hours on Low or 4 hours on High heat.
Thirty minutes before cook time is up, remove chicken breasts from slow cooker and place on a cutting board. Shred the meat using two forks and return shredded meat to crockpot. Add peas and corn, mix well, and let cook for the remaining 30 minutes.
Bake biscuits in oven according to package directions and serve one on top of each Chicken Pot Pie serving!