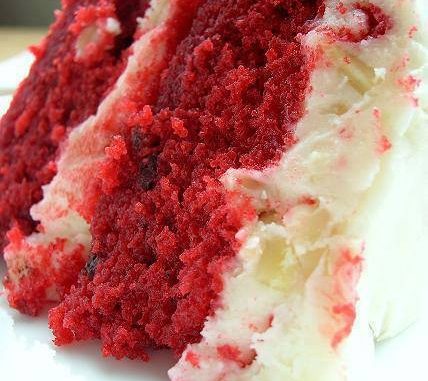 INGREDIENTS:
2 eggs
1 1/2 cups sugar
1 1/2 cups vegetable oil
1 tsp white vinegar
2 1/2 cups cake flour
1 tsp baking soda
2 to 3 TBSP cocoa powder
1 cup buttermilk
1 tsp vanilla
5/8 ounce bottle red food coloring
How to make :
Preheat the oven to 350F. Cream the eggs, sugar, oil and vinegar. Sift the cake flour, baking soda, and cocoa together. Add the flour mixture to the creamed ingredients while beating. Slowly add the buttermilk. While still beating, add the vanilla and the food coloring. Pour into three 8-inch layer pans and bake for about 25 minutes. Press lightly;if the layers are spongy, then the cake is done. Frost the cooled layers, assemble and frost the top and sides. Serves 12 to 14.
Red Velvet Cake Frosting:
1(8 ounce) package cream cheese, softened
1/2 cup butter
1 (1 pound) box confectioners sugar
1 cup chopped pecans
1 tsp vanilla extract
How to make it :
Combine the cream cheese and butter and melt over very low heat.
Add the sugar, pecans and vanilla and mix well. If the frosting becomes too thick, add a little milk. Frost one 8-inch or 9-inch layer cake.