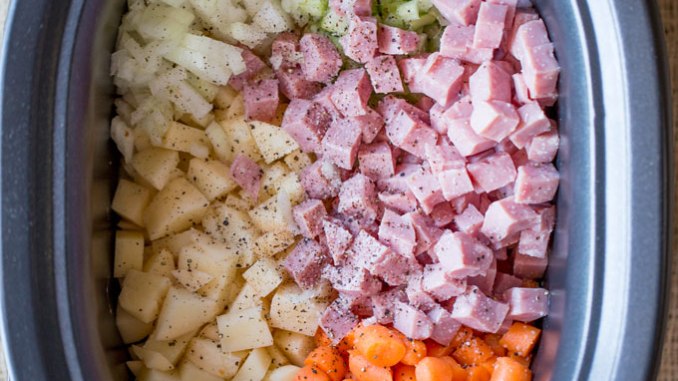 Slow Cooker Ham and Potato Soup that's creamy, full of vegetables and chunks of ham, finished off with milk and sour cream for a easy and delicious hearty soup.
Prep Time: 15 mins
Cook Time: 4 hrs
Servings: 8
Ingredients:
8 cups russet potatoes , diced
1 yellow onion , diced
2 large carrots , peeled and chopped
1/2 cup chopped celery
16 ounce Cubed Ham 2 packages of packages Smithfield Anytime Favorites™ Cubed Ham
1 teaspoon Kosher salt
1/4 teaspoon fresh cracked black pepper
1/4 cup flour
4 cups chicken broth
1 1/2 cups heavy cream (you can also use milk – I used whole milk)
½ cup sour cream
Directions:
Add the potatoes, onion, carrot, celery, ham, Kosher salt, pepper chicken broth to your slow cooker and cook on low 7-8 hours, or high 4-5 hours.
Using a potato masher, mash about 1/3 of the potatoes (don't worry the ham won't really mash that much)
Add the flour, heavy cream/milk and sour cream and stir everything together.
Cover and cook on high for an additional 15 minutes.