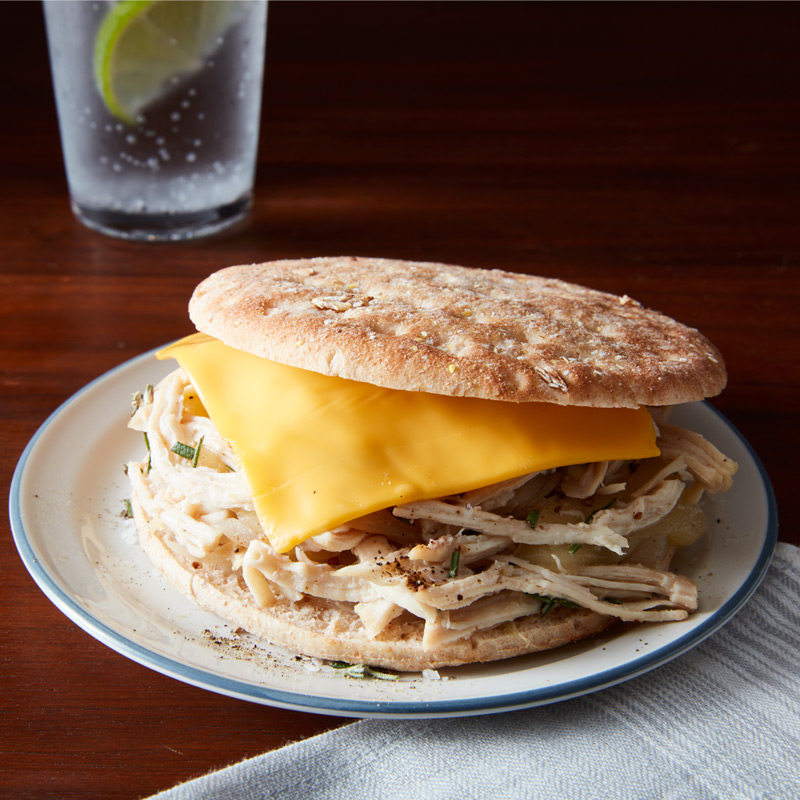 Ingredients
2 medium fresh apple(s), peeled and sliced
1 medium uncooked onion(s), sliced thinly
20 oz uncooked boneless skinless chicken breast(s), 4 breasts
3/4 cup(s) apple cider
1 1/2 tsp honey-dijon mustard, (grainy mustard)
1 1/2 tsp kosher salt
1/2 tsp black pepper
1/2 tsp poultry seasoning
1/3 Tbsp cider vinegar
1 tsp rosemary, fresh, chopped
8 slice(s) Weight Watchers Reduced fat American cheese singles
8 roll(s) Arnold, Brownberry, Oroweat Multi Grain Sandwich Thin(s)
Instructions
Place apples and onions in bottom of slow cooker.
Top with chicken breasts.
Whisk together cider, mustard, salt, pepper, and poultry seasoning.
Pour over chicken. Cover and cook on low for 6-8 hours or until chicken is cooked through.
Use two forks to shred chicken breasts.
Stir in cider vinegar and rosemary, season to taste, and serve on Sandwich Thins topped with a slice of Weight Watchers American Cheese.