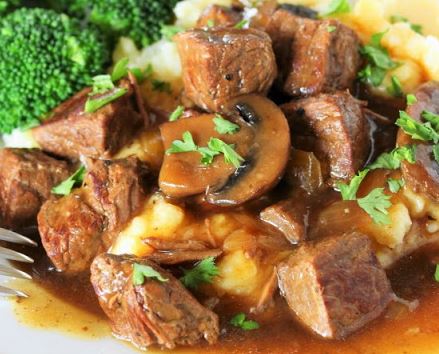 Ingredients
1 large

 

onion, halved & cut into slivers

8 oz. 

sliced mushrooms

1 to 2 lbs. 

beef top sirloin steak, cubed*

1 tsp. 

salt

1/4 tsp. 

pepper

1 T. 

canola or vegetable oil

2 1/3 c. (21 oz.) 

beef broth

1 ½ T. 

Worcestershire sauce

3 T. 

cornstarch

cooked mashed potatoes

chopped fresh parsley {optional}
Directions
Place onion and mushrooms in the bottom of a slow cooker.
Sprinkle beef cubes evenly with salt and pepper. Heat oil in a large skillet over medium-high heat. Add half of the beef cubes and brown on all sides. Transfer browned meat to the slow cooker. Repeat with the remaining beef cubes.
Add about 1/3 cup beef broth to the skillet; stir to loosen the browned bits from the bottom of the pan. Stir in remaining beef broth and Worcestershire sauce, heat to boiling, and pour over meat in the slow cooker.
Cook, covered, on LOW setting for 6 – 8 hours until meat is tender.
With a spoon, remove about 1/3 cup liquid from the slow cooker and place in a small bowl. Gradually whisk in cornstarch, whisking until mixture is smooth.
Stir cornstarch mixture into the slow cooker. Cook, covered, on HIGH setting 15-30 minutes until gravy is thickened.
Serve over hot cooked mashed potatoes. Sprinkle each serving with chopped fresh parsley, if desired.
*Note:  For this recipe challenge, I used 1 lb. of beef top sirloin steak.  The recipe does make enough gravy for including and serving up to 2 lbs. of beef.
Enjoy!
Source : thekitchenismyplayground.com