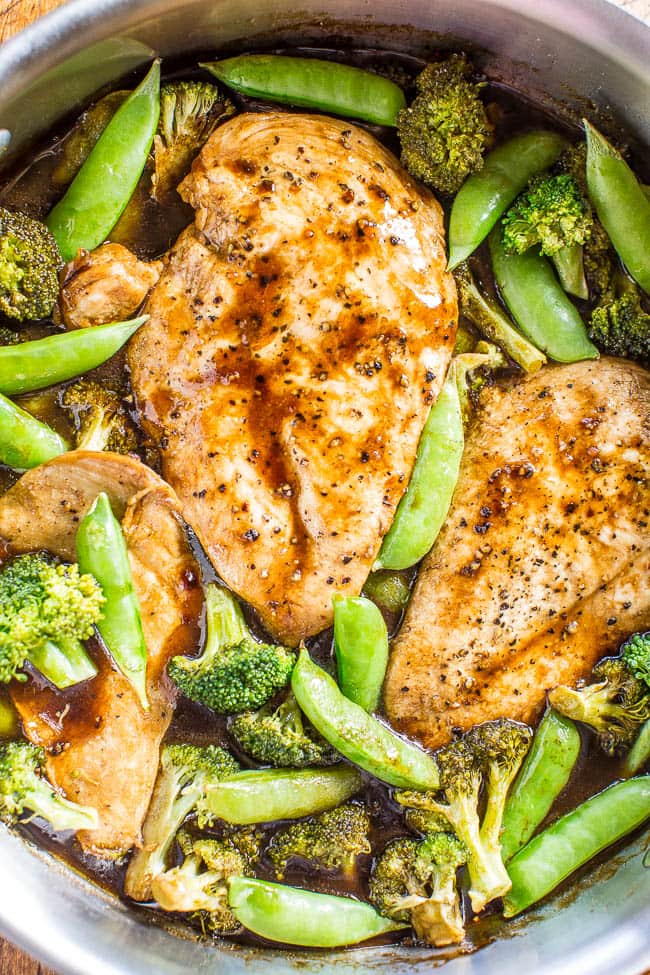 The recipe is easy, ready in 15 minutes, healthy, and made in one skillet. The chicken is juicy and moist while the vegetables are perfectly crisp-tender.
INGREDIENTS:
1/3 cup balsamic vinegar
2 tablespoons honey
1 tablespoon light brown sugar, packed
1 tablespoons olive oil for sauce + 2 tablespoons for cooking chicken
2 teaspoons cornstarch
1/2 teaspoon salt, or to taste
1/2 teaspoon pepper, or to taste
4 thin-sliced boneless skinless chicken breasts (about 1 pound), seasoned with salt and pepper
about 2 cups broccoli florets
about 1 1/2 cups sugar snap peas (peapods may be substituted)
2 to 4 tablespoons water, optional and if necessary
DIRECTIONS:
To a medium bowl or large measuring cup, add the balsamic vinegar, honey, brown sugar, 1 tablespoon olive oil, cornstarch, salt, pepper, and whisk to combine; set sauce aside.
To a large skillet, add 2 tablespoons olive oil, add the chicken breasts, season with salt and pepper to taste, and cook over medium-high heat for about 5 minutes or until chicken is about 75% cooked through. Flip chicken halfway through cooking. Cooking time will vary based on thickness of chicken breasts and sizes of pieces. I used thin-sliced chicken breasts because they cook quicker.
Add the sauce, noting that it may bubble up in the first few seconds.
Add the vegetables, evenly sprinkled over the skillet, some will be on top of the chicken. If necessary add 2 to 4 tablespoons water to help the vegetables steam. Adding water will vary based on the amount of natural juices the chicken released while cooking. Cover skillet and allow vegetables to steam for about 3 to 5 minutes, or until crisp-tender and chicken is cooked through. Stir to evenly coat vegetables with sauce.
Taste sauce, check for seasoning balance, making any necessary adjustments before serving (more salt, pepper, dash of honey or balsamic vinegar, etc.) Will keep airtight in the fridge for up to 4 days. Serve cold or reheat gently prior to serving if desired.
YIELD: serves 4
PREP TIME: 5 minutes
COOK TIME: 10 minutes
TOTAL TIME: 15 minutes