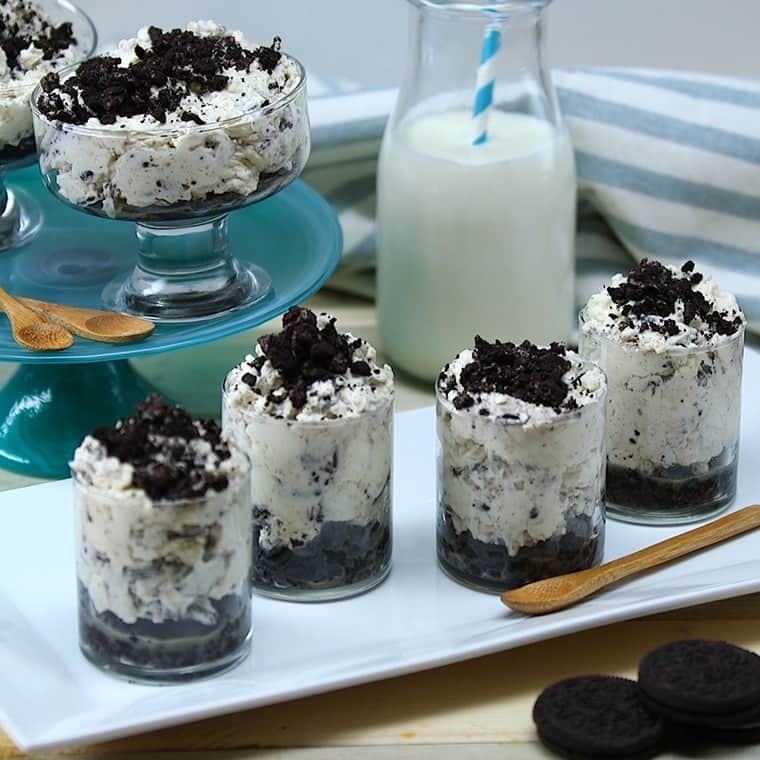 When you need a tasty treat that is easy to make look no further than these Oreo cheesecake parfaits that you don't even have to bake! These are a quick and satisfying snack that anyone can make! Perfect to bring along to all those holiday parties, or even just as an after-school or after-work treat! You deserve it!
Ingredients:
30 Oreo cookies
4 tbsp butter, melted
2 pkg (8 oz) cream cheese, softened
5 tbsp granulated sugar
1 tsp vanilla sugar
1 cup heavy whipping cream
Directions:
Chop up half of your cookies and set aside. Crush the rest of the cookies into tiny pieces. Set aside 4 tbsp of the crushed cookies to use as decoration. Mix your crushed Oreos with the melted butter and then separate it between your four glasses or serving dishes. Refrigerate the crushed Oreos while you prepare the filling. In a bowl, blend whip together the granulated sugar, the vanilla sugar and the whipping cream until it starts to make stiff peaks. Add the cream cheese in and continue to mix until it is all blended together. Fold in the chopped Oreos. Scoop the filling into your cups dividing it so they are all even. Sprinkle the extra crumbs on top and refrigerate for 4 hours or overnight. These are great because they don't take a lot of time but give you all the sweet taste you need!