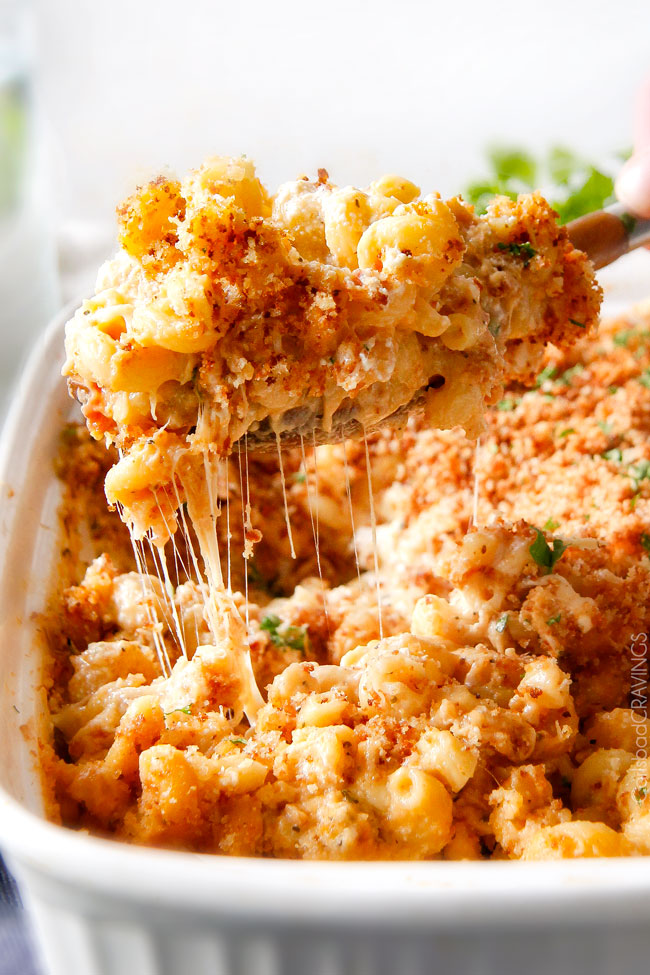 INGREDIENTS
1 pound cellentani pasta may sub rigatoni, penne or macaroni
4 tablespoons butter
1/4 cup all-purpose flour
3 cups milk
1 can evaporated milk 12 oz. can
1 tablespoon cornstarch
1 tablespoon Dijon mustard
1 tablespoon chicken bouillon
1 teaspoon onion powder
1 teaspoon garlic powder
1 teaspoon dried parsley
1 teaspoon salt
1/2 teaspoon pepper
1/4-1/2 teaspoon red pepper flakes optional
4 cups sharp cheddar cheese freshly grated
6-8 slices provolone cheese *
1 cup sour cream
1 cup Parmesan cheese freshly grated
Panko Topping (optional)
3/4 cup panko breadcrumbs
2 tablespoon butter
1 tablespoon extra virgin olive oil
INSTRUCTIONS
Cook pasta just until al dente according to package directions – don't overcook! Strain and rinse with cold water.
Preheat oven to 350 degrees F. Lightly grease a 9×13 baking dish. Set aside.
Melt 4 tablespoons butter in a large skillet over medium heat then whisk in flour. Cook, while stirring for 2 minutes. Turn heat to low then gradually whisk in milk. Whisk cornstarch into evaporated milk and gradually add to skillet followed by Dijon mustard and all remaining spices/seasonings.
Bring to a boil, whisking constantly then reduce heat to medium and simmer, whisking occasionally until thickened (but not overly thick). Remove from heat and whisk in sharp cheese until melted. Add pasta and toss until evenly coated (it will seem like a lot of extra sauce which is a good thing).
Pour half of the macaroni and cheese into prepared baking dish. Layer macaroni evenly with provolone cheese followed by an even layer of sour cream. Pour remaining macaroni and cheese over sour cream and spread into an even layer. Sprinkle with 1 cup Parmesan cheese (or more to taste).
Panko topping (optional): Melt butter in olive oil over medium heat in a medium skillet. Add panko and stir to coat. Continue cooking until crumbs become golden brown. Evenly sprinkle over macaroni and cheese.
Bake 25-30 minutes or until bubbly and inside provolone is melted. If not topping with panko, broil until Parmesan is golden. Cool 10 minutes to set before serving.