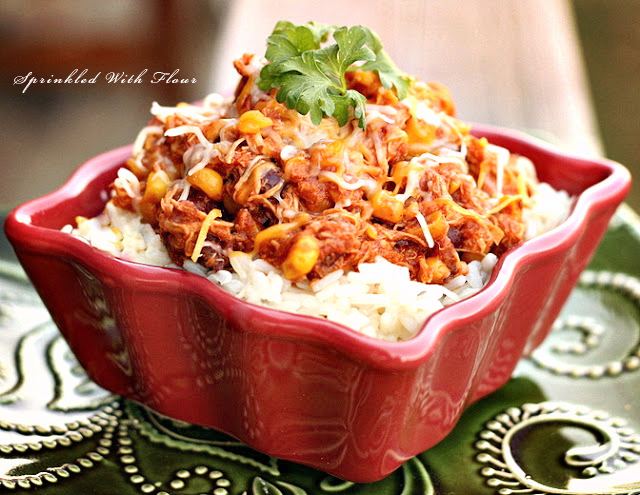 Crock Pot Chicken Taco Chili
Servings: 10 • Size: about 1 cup
Calories: 203.7 • Fat: 1.4 g • Carb: 33.3 g • Fiber: 10.0 g  • Protein: 16.9 g
Ingredients:
1 small onion, chopped
1 (15.5 oz) can black beans
1 (15.5 oz) can kidney beans
1 (8 oz) can tomato sauce
10 oz package frozen corn kernels
2 (10 oz) cans diced tomatoes w/chilies
1 packet reduced sodium taco seasoning or homemade (see below)
1 tbsp cumin
1 tbsp chili powder
24 oz (3-4) boneless skinless chicken breasts
4 oz can chopped green chili peppers, chopped
1/4 cup chopped fresh cilantro
To make your own taco seasoning, omit the packet, cumin and chili powder above and use below instead:
1 1/2 tablespoons cumin
1 1/2 tablespoons chili powder
1/4 teaspoon garlic powder
1/4 teaspoon onion powder
1/4 teaspoon dried oregano
1/2 teaspoon paprika
1 teaspoon kosher salt
1/2 teaspoon black pepper
Directions:
Combine beans, onion, chili peppers, corn, tomato sauce, diced tomato, cumin, chili powder and taco seasoning in a slow cooker and mix well. Nestle the chicken in, cover and cook on LOW for 10 hours or on HIGH for 6 hours. Half hour before serving, remove chicken and shred. Return chicken to slow cooker and stir in. Top with fresh cilantro.