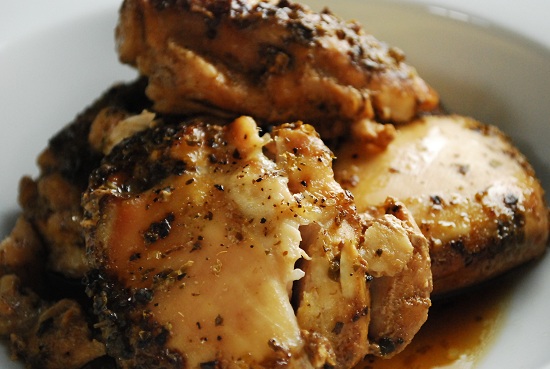 A wonderful and easy Chicken Crock Pot Recipe that tastes great and has just 3 Smartpoints. This Slow Cooker Beer Chicken also makes a great Weight Watchers Super Bowl Recipe idea.
Ingredients
2lbs skinless, boneless chicken breasts (I used 8 breasts, 4oz ea)
1 bottle or can of your favorite beer (I used Guinness)
1 tsp salt
1 tsp garlic powder
1 tbsp dried oregano
1/2 tsp black pepper
Instructions
Place all ingredients in the crock pot, and cook on high for 4-5 hrs, or low for 6-8 hrs.
Feel free to change out the spices and herbs and use whatever you'd like.
Preparation time: 5 minute(s)
Cooking time: 6 hour(s)
Diet tags: Low calorie, Reduced fat, Reduced carbohydrate, High protein
Number of servings (yield): 8
Culinary tradition: USA (General)
Entire recipe makes 8 servings
Serving size is 1 chicken breast
Each serving = 3 Smartpoints
PER SERVING: 143 calories; 3g fat; 1.5g carbohydrates; 23g protein; 0g fiber