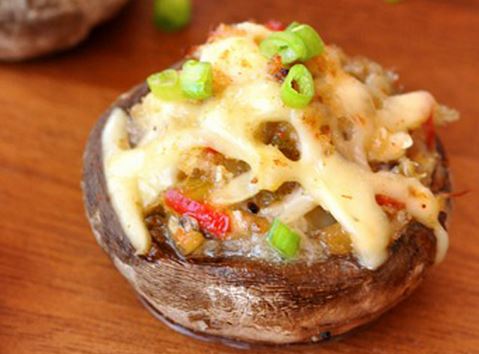 We like these creamy, cheesy stuffed mushrooms mild, but if you and your guests prefer a "kick," add a few dashes of hot sauce to the filling mixture, to taste. A squeeze of lemon juice over the cooked mushrooms just prior to serving brightens the rich flavors of the filling.
INGREDIENTS
24

ounces

cremini mushrooms, about 2-inches in diameter, cleaned (about 18-24 mushrooms)

1/4

cup

olive oil, divided

kosher salt and freshly ground black pepper

1/3

cup

sliced scallions, plus additional for garnish

2

garlic cloves, minced

1/2

cup

block-style cream cheese (1/2 of an 8-ounce block)

1

teaspoon

Dijon mustard

1

teaspoon

Worcestershire sauce

6

ounces

lump crabmeat, picked over for cartilege

1

cup

shredded Gouda, divided

lemon wedges, for serving
INSTRUCTIONS
Preheat oven to 400 degrees F with rack in middle position.
Remove stems from mushrooms. Use a small spoon to gently hollow out a little of the mushroom cavity, removing gills. Save mushroom shavings and set aside with stems.
On a baking sheet (lined with foil, if desired, for easy cleanup), toss mushroom caps with 2 tablespoons olive oil and a few pinches of kosher salt and pepper. Arrange mushrooms in a single layer, cavity-side down. Roast for 20 minutes. Remove from oven and flip caps. Set aside.
While mushrooms are roasting, finely chop stems and gills. Heat remaining 2 tablespoons of oil in a nonstick skillet until shimmering. Add chopped mushroom pieces with a pinch of salt and pepper, and cook, stirring often, until liquid is released and mushrooms are soft, but not brown, about 5-8 minutes. Add scallions and garlic, and cook until fragrant, about 2 minutes. Remove from heat and let cool slightly.
In a bowl, mix together cream cheese, Dijon mustard, and Worcestershire sauce. Stir in mushroom mixture and 1/2 cup shredded Gouda. Gently stir in crabmeat, breaking up any very large pieces. Season to taste with salt and pepper.
Fill roasted mushroom caps with filling mixture, packing and mounding slightly. Top each mushroom with some of the remaining shredded cheddar. Bake for 5-7 minutes, until cheese is melted and filling is heated through. Serve hot, topped with additional sliced scallions and a squeeze of lemon juice.
TO PREP AHEAD:
Prepare recipe, as instructed above, through the filling of the mushroom caps and topping with shredded cheese. Cover mushrooms and refrigerate, up to overnight. When ready to serve, preheat oven to 375 degrees F. Place mushrooms on a foil-lined baking sheet sprayed with cooking spray and bake 10-15 minutes, until filling is heated. Let stand 5 minutes before garnishing and serving.