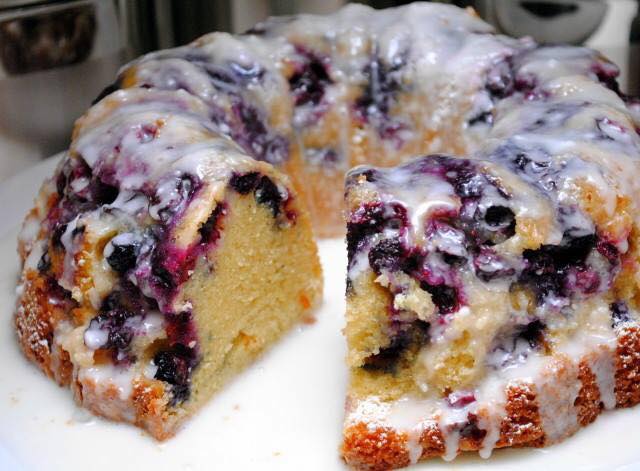 I used to sell several lines of kitchenware through home parties.
This blueberry poundcake recipe came from the hostess at one of those parties.
It's been a favorite ever since!

Ingredients :
1/2 cup butter
3 eggs
3-1/2 cups all-purpose flour
2 tsp. baking powder
1/4 tsp. salt
2 cups sugar
4 cups fresh blueberries
1 cup milk
Directions :
Allow butter and eggs to stand at room temperature for 30 minutes. Meanwhile, grease a 10-inch tube pan; set aside.
In a large bowl sift together the flour, baking powder, and salt; set aside.
In a very large mixing bowl beat the butter and sugar with an electric mixer on medium speed until mixture is well combined.
Beat in eggs.
Stir blueberries into flour mixture.
By hand, stir blueberry mixture into butter mixture.
Stir in milk just until combined.
Spread batter in prepared pan.
Bake in a 325 degrees F oven for 60 to 75 minutes or until a wooden skewer inserted near center comes out clean.
Cool on wire rack for 15 minutes.
Loosen cake from edge of pan with a narrow metal spatula.
Remove cake from pan; cool completely on wire rack.
NOTE: This is excellent all by itself, but would be great with a little added lemon zest or a couple handfuls of white chocolate chips. Or maybe a mixture of blueberries and raspberries.
Oooh, that would be pretty.