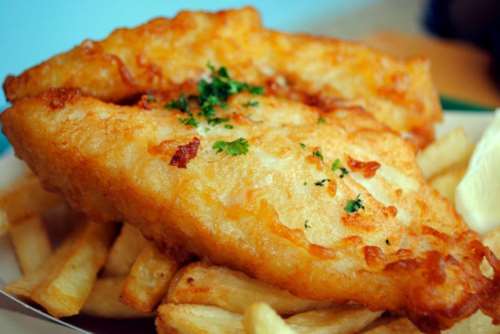 This is a great beer batter recipe. I love fish & chips. Serve with a little cocktail and/or tarter sauce and malt vinegar for dipping and enjoy! I use this for mostly fish. My favorites in particular are cod, flounder and ocean perch but you can use this batter for anything such as mushrooms, pickles, cheese sticks, chicken, etc.
Ingredients:
1
lb fish fillets of your choice
1 1/4
c biscuit/bake mix, divided
1/2
c beer or your choice (add more beer for desired thickness))
vegetable oil for frying
Directions:
1.
Coat fish fillets with 1/4 cup biscuit mix; set aside. Combine remaining 1 cup biscuit mix salt, egg and beer; stir until smooth.
2.
Dip each fillet into beer mixture; fry in deep hot oil for 1-2 minutes on each side or until golden brown and fish flakes easily when tested with a fork.