Ingredients
1 pound(s) uncooked 93% lean ground beef   

1 small uncooked onion(s), chopped   

1 clove(s) (medium) garlic clove(s), minced   

28 oz canned crushed tomatoes   

15 oz canned tomato sauce   

1 tsp table salt   

1 tsp dried oregano   

1/2 tsp dried basil   

1/4 tsp crushed red pepper flakes, or to taste   

1 cup(s) part-skim ricotta cheese   

1 1/2 cup(s) shredded part-skim mozzarella cheese, divided   

6 item(s) uncooked lasagna noodles   

1/2 cup(s) shredded parmesan cheese, strong-flavored like Parmigiano Reggiano   
Directions: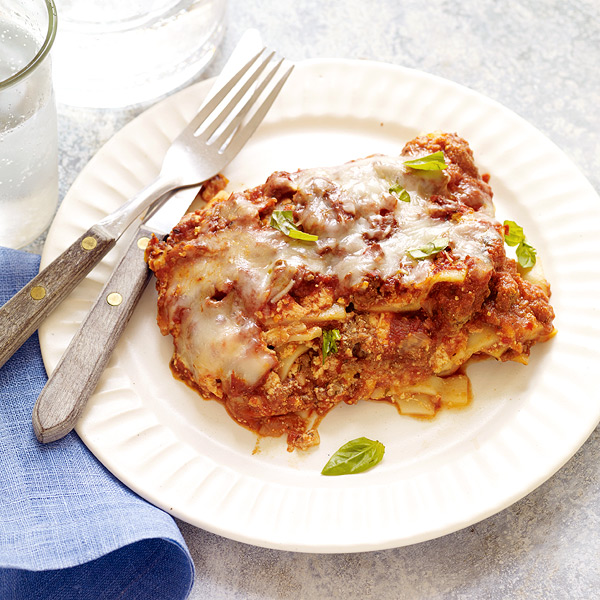 Heat a large nonstick skillet over medium-high heat. Add beef, onion and garlic; cook, stirring frequently, breaking up meat with a wooden spoon as it cooks, about 5 to 7 minutes. Stir in crushed tomatoes, tomato sauce, salt, oregano, basil and red pepper flakes; simmer 5 minutes to allow flavors to blend.

Meanwhile, in a medium bowl, stir together ricotta cheese and 1 cup of mozzarella cheese.

Spoon 1/3 of beef mixture into a 5-quart slow cooker. Break 3 lasagna sheets in half and arrange over beef mixture; top with half of ricotta mixture. Repeat with another layer and finish with remaining 1/3 of beef mixture.

Cover slow cooker and cook on low setting for 4 to 6 hours. Remove cover; turn off heat and season to taste, if desired.

In a small bowl, combine remaining 1/2 cup of mozzarella cheese and Parmesan cheese; sprinkle over beef mixture. Cover and set aside until cheese melts and lasagna firms up, about 10 minutes. Yields 1/6th of dish per serving.