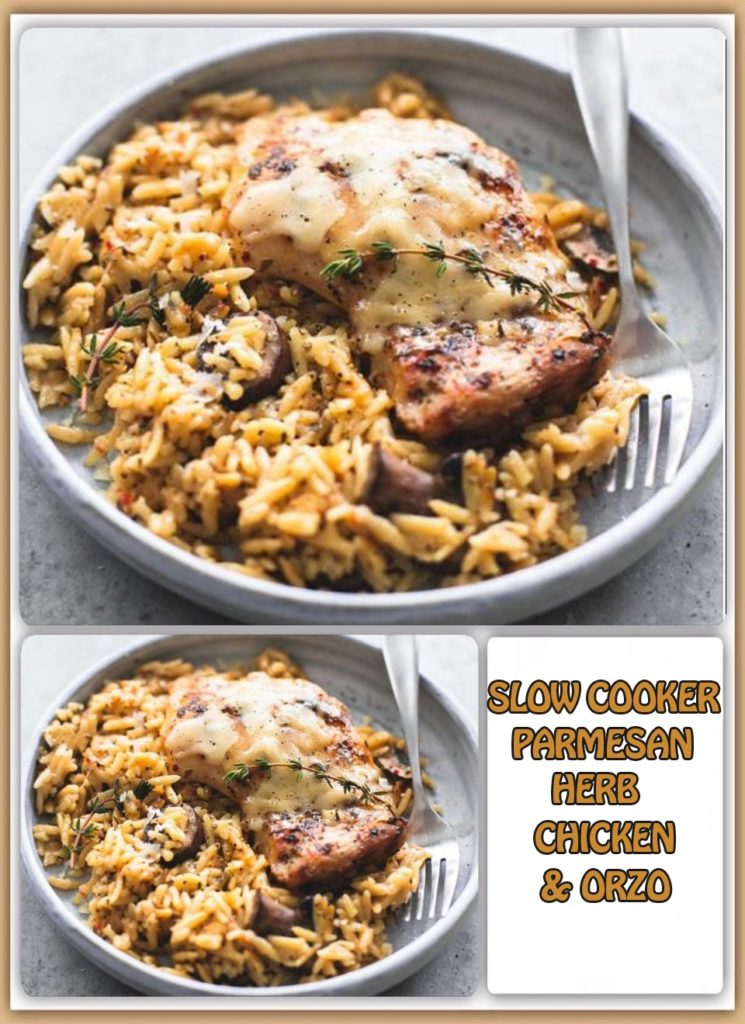 PREP TIME
10 mins
COOK TIME
4 hours
TOTAL TIME
4 hours 10 mins
Slow cooker parmesan herb chicken & orzo is an easy, no-fuss crockpot meal with hearty flavors that will please the whole family.
Author: Tiffany
Recipe type: Main Dish
Cuisine: Italian/American
Serves: 4
INGREDIENTS
4 boneless skinless chicken breasts, OR 4-6 boneless skinless chicken thighs
3 teaspoons Italian seasoning, divided
3 cups low sodium chicken broth
1 cup orzo pasta
4 tablespoons butter, melted
1 cup sliced mushrooms
1 medium white or yellow onion, finely chopped
2 teaspoons minced garlic
1 teaspoon salt (or to taste)
¼ teaspoon black pepper
½ cup shaved or finely shredded parmesan cheese
freshly cracked black pepper and herbs (such as thyme or parsley) for garnish
INSTRUCTIONS
Season chicken with a bit of the Italian seasonings and salt and pepper on both sides. Cook in a large nonstick skillet on the stove over medium-high heat 1-2 minutes on each side until browned on the outsides.
Transfer chicken to a greased slow cooker. Add chicken broth, butter, mushrooms, onions, garlic, and salt and pepper to slow cooker.
Cover and cook on high for 1-2 hours or on low for 3-4 hours. Stir in orzo, cover and cook for another 30-45 minutes on high.
Uncover and use a fork to pull chicken out of the slow cooker. Stir contents of slow cooker, then return chicken to slow cooker, on top of the orzo mixture.
Sprinkle parmesan cheese over chicken. Cover and cook until cheese is melted, about 5-10 minutes. Serve with fresh herbs and cracked black pepper if desired.