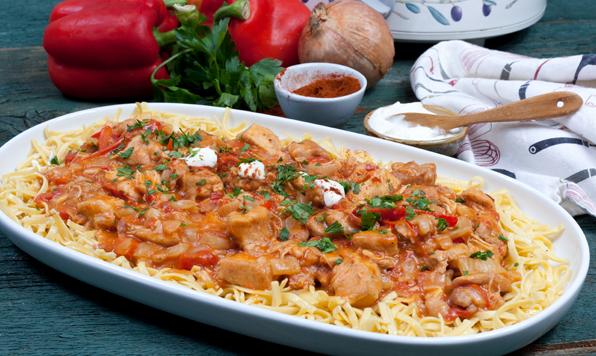 Ingredients
1 spray(s) cooking spray, or enough to coat skillet
2 cup(s) fresh mushroom(s), coarsely chopped
1 small uncooked onion(s), chopped
1 clove(s), medium garlic clove(s), minced
1 small sweet red pepper(s), diced
1 tsp paprika
3/4 tsp table salt
1/2 tsp black pepper
1/2 cup(s) canned chicken broth
1 pound(s) uncooked boneless skinless chicken breast(s)
1 Tbsp all-purpose flour
1/2 cup(s) fat free sour cream
Instructions
Coat a nonstick skillet with cooking spray and heat. Add mushrooms, onion, garlic and pepper; sauté 5 minutes. Stir in paprika, salt and pepper; cook 30 seconds more. Spoon mixture into a 4- to 5-quart slow cooker; add broth.
Cut each chicken breast into 4 long strips; add to slow cooker. Cover and cook on low setting for 5 to 6 hours.
Stir together flour and sour cream in a cup; stir into chicken mixture. (Note: We stir flour into the sour cream to prevent the cream from curdling in slow-cooked dishes.) Cover and cook on low until the mixture is thick and hot, about 10 minutes more. Yields about 1 1/2 cups per serving.