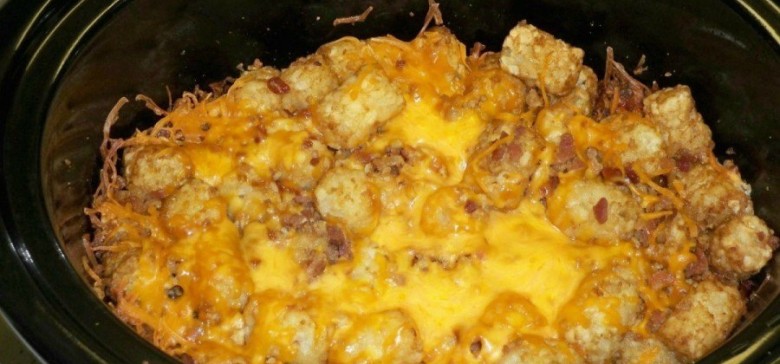 This, my friends, is the definition of comfort food. If you're looking for something warm and tasty to come home to for dinner, this is an excellent option. Crockpot Ladies has the recipe for this deliciousness. Check it out:
Here's what you need:
-1 (1 oz.) packet ranch dressing mix (or equivalent homemade)
– 1 cup milk
– 1 (32 oz.) package frozen tater tots
– 8 slices thick cut bacon, browned and crumbled
– 2 cups cheddar cheese, shredded
1 lb. boneless skinless chicken breast, cut into bite sized pieces (raw)
And here's how you do it:
Spray the bottom and slides of your slow cooker with non-stick cooking spray.
Mix together your ranch dressing mix with a cup of milk and stir with a fork until well combined.
Put a single layer of frozen tater tots at the bottom of the crock pot.
Sprinkle the tater tot layer with 1/3 of the cheddar cheese.
Sprinkle 1/3 of the crumbled, cooked bacon on top of the cheese layer.
Sprinkle chicken pieces on top of the bacon layer.
Layer cheese, then bacon, then tater tots until ingredients are gone. End with a layer of bacon on top.
Give milk and ranch a last stir, then pour over the layers in the crock pot.
Cover and cook on low for 5-6 hours or on high for 3-4 hours, until chicken is cooked through.