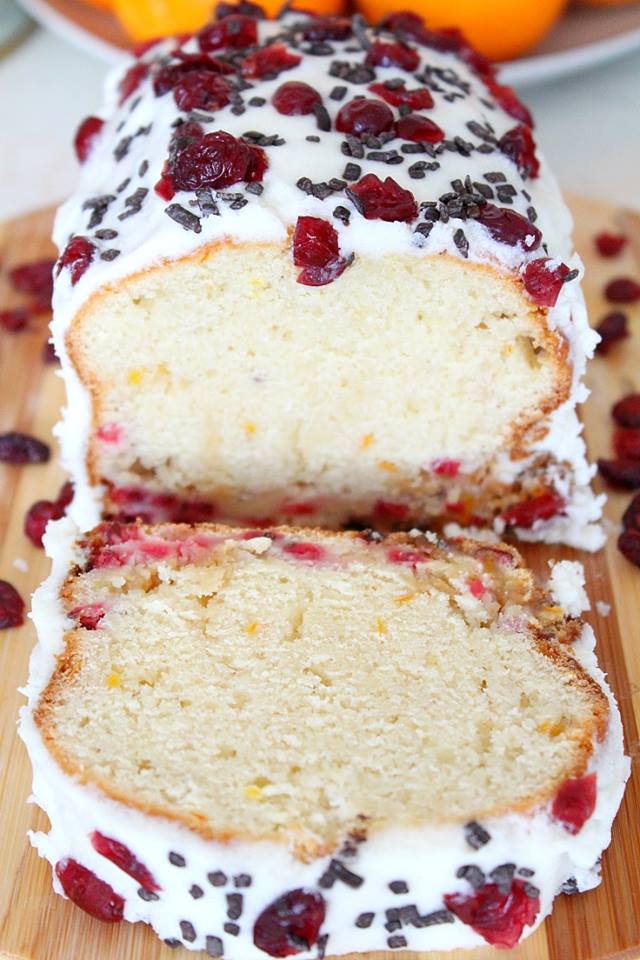 Holiday Cranberry Pound Cake is a perfect treat for the winter holidays!
Ingredients
For the Cake:
187 grams cake flour-sifted (it's about 1 1/2 cups plus 3 Tablespoons flour but you better measure it on kitchen scale because the cake could be dense or dry if you overdo it with the flour )
1/2 teaspoons baking powder
Pinch of salt
1cup cranberries (fresh or thawed)
5 oz. white chocolate chunk
1/2 cup unsalted butter ( room temperature)
300 grams sugar ( 11/2 cups)
1/2 cup heavy cream
1/2 cup mascarpone cheese
3 eggs
1 teaspoon vanilla extract
2 Tablespoons browned butter
For Frosting:
1/4 cup butter(softened)
4 oz.cream cheese
1 1/2 cup powdered sugar (or more to make it thick enough to spread on top of the cake)
1 teaspoon vanilla extract
For Garnish:
handful dried cranberries
1 tablespoon vegetable oil
1/2 cup white chocolate chips
Instructions
Preheat the convection air oven to 325 F (if you don't have convection air oven raise the temperature to 350 F and you will have to rotate the pan half way through the baking time)
Butter and flour 8.5×4.5×3 inches loaf pan and line it with parchment paper.
Combine cake flour, baking powder and salt and sift it three times, set aside.
In a small sauce pan over medium heat brown 2.5 tablespoon butter until it's nice amber color, remove the foam and set aside to cool.
Whisk the egg with vanilla extract and set aside.
Mix the butter on medium speed until it's creamy, slowly add sugar and continue beating until it's creamy.
Add heavy cream and mascarpone, and beat on medium speed.
Turn mixer on low speed and gradually add dry ingredients alternately with eggs.
Add handful flour in chocolate chunks and toss them to cover evenly. Toss cranberries with a handful flour to cover them completely.
Add chocolate chunks in the batter and stir well, then gently stir in cranberries
Pour the batter into prepared loaf pan, smooth the top and gently tap the pan on working surface to remove the air bubbles.
With a butter knife draw a line down the center of the pound cake and pour browned butter into the line.
Bake until the top of the cake is golden brown and a toothpick inserted comes out clean (about 55 to 65 minutes). Cool the cake in the pan for 15 minutes, then remove from the pan and cool on the rack.
When the cake is completely cooled prepare the glaze.
With a mixer, cream together softened butter and cream cheese until smooth. Slowly add in powdered sugar and beat until smooth, mix in vanilla extract. Spread on top of the cake.Place the cake in the fridge until the frosting is set.
When the frosting is set melt 1/2 cup white chocolate chips with 1 tablespoon vegetable oil in a small sauce pan over low heat until it's smooth( cool if it's too thin)
Sprinkle the cake with dried cranberries and drizzle with chocolate. (You can drizzle the chocolate with a spoon or transfer it into small zip-lock bag, cut off the corner and pipe the chocolate over the cake).