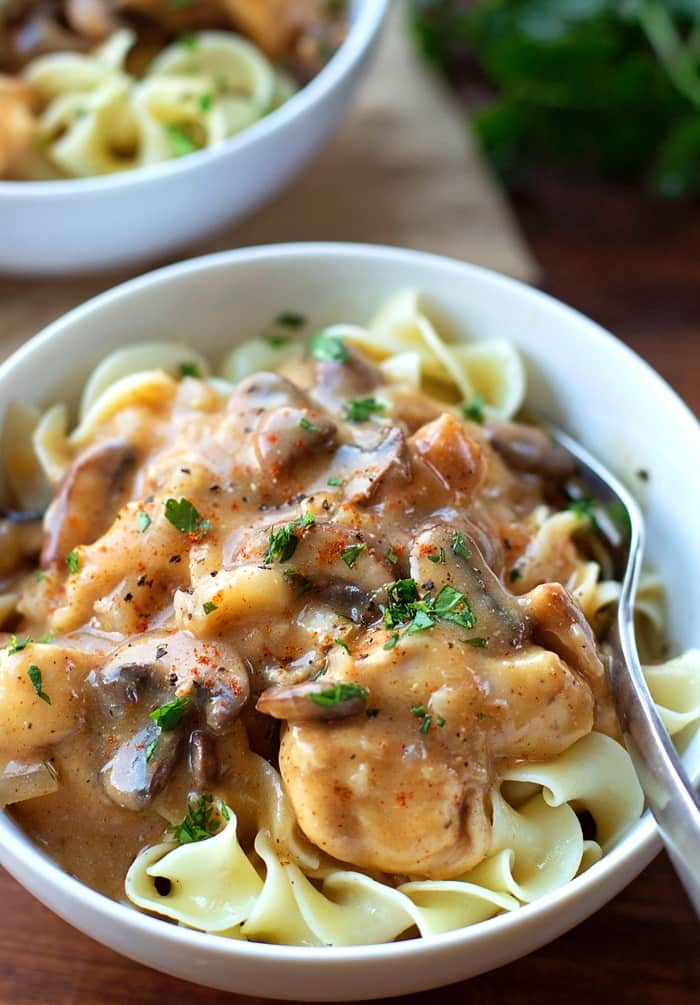 Ingredients
2 tbsp. olive oil, divided
1 lb. chicken breasts, cut into 1-inch chunks
1 tsp. garlic powder
1 tsp. onion powder
½ tsp. paprika
¼ tsp. cayenne pepper
1 tsp. salt, divided
1 tsp. ground black pepper, divided
–
2 c. sliced cremini mushrooms
1 shallot, minced
1 small onion, chopped
3 garlic cloves, chopped
2 tbsp. white wine (optional)
4 tbsp. butter
4 tbsp. all-purpose flour
2 c. low-sodium chicken broth
1 tbsp. worcestershire sauce
½ tsp. fresh thyme leaves
1 lb. egg noodles (whole wheat or regular), cooked and drained
⅓ c. sour cream, plus more for garnishing
chopped fresh parsley (optional)
Instructions
In a large skillet set over medium-high heat, add 1 tablespoon of olive oil.
Meanwhile, place the cut chicken into a bowl. Season with garlic powder, onion powder, paprika, cayenne pepper, and ½ teaspoon each of salt and pepper; toss to combine.
Place the chicken in the hot pan (taking care not to overcrowd- you may need to do two batches) and brown, about 2-5 minutes on each side. The chicken does not need to be cooked throughout. Remove from the pan and transfer to a plate (continue with remaining chicken if needed).
Add the the remaining tablespoon of oil to the skillet. Add the mushroom and cook until brown, about 4 minutes. Add the shallot, onion and garlic and stir occasionally until they are soft and translucent. Pour in the wine and cook for 1 minute, then add the butter and flour. Whisk continuously taking care not to burn. SLOWLY add the chicken stock, whisking to create a smooth sauce. Add the worcestershire, thyme, and the remaining salt and pepper. Bring to a simmer and allow the sauce to thicken.
Toss in the chicken, turn the heat down to medium-low and continue to cook for 5-8 minutes. Add the egg noodles and the sour cream and stir until combined. Cook for 2 more minutes, add salt and pepper to taste, then remove from the heat and garnish with parsley, if desired.