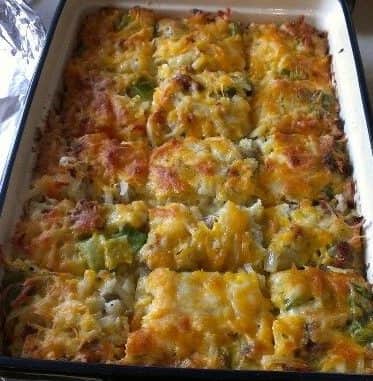 Ingredients
2 boxes Betty Crocker™ Seasoned Skillets® hash brown potatoes
1 1/2 lb bulk spicy pork sausage
2 medium red bell peppers, chopped (2 cups)
8 medium green onions, chopped (1/2 cup)
1 cup shredded Cheddar cheese (4 oz)
1 cup shredded pepper Jack cheese (4 oz)
2 cups milk
1/2 teaspoon salt
1/2 teaspoon pepper
6 eggs
Chopped fresh cilantro, if desired
Directions
1 Spray 3-quart casserole dish with cooking spray. In 4-quart bowl, cover potatoes with 10 cups boiling water. Let stand 3 minutes. Drain well; return potatoes to bowl.
2 In 12-inch skillet, cook sausage over medium heat 5 minutes. Add bell peppers; cook 4 minutes, stirring frequently, until sausage is no longer pink and peppers are tender. Drain. Add sausage mixture to potatoes in bowl; stir in onions and 1/2 cup of each of the cheeses. Spread in baking dish.
3 In medium bowl, beat milk, salt, pepper and eggs until blended. Pour over sausage-potato mixture; sprinkle with remaining 1/2 cup of each cheese. Cover; refrigerate 8 hours or overnight.
4 Heat oven to 375°F. Uncover baking dish. Bake 50 minutes or until light golden brown and cheese is melted. Let stand 10 minutes before serving. Sprinkle with cilantro