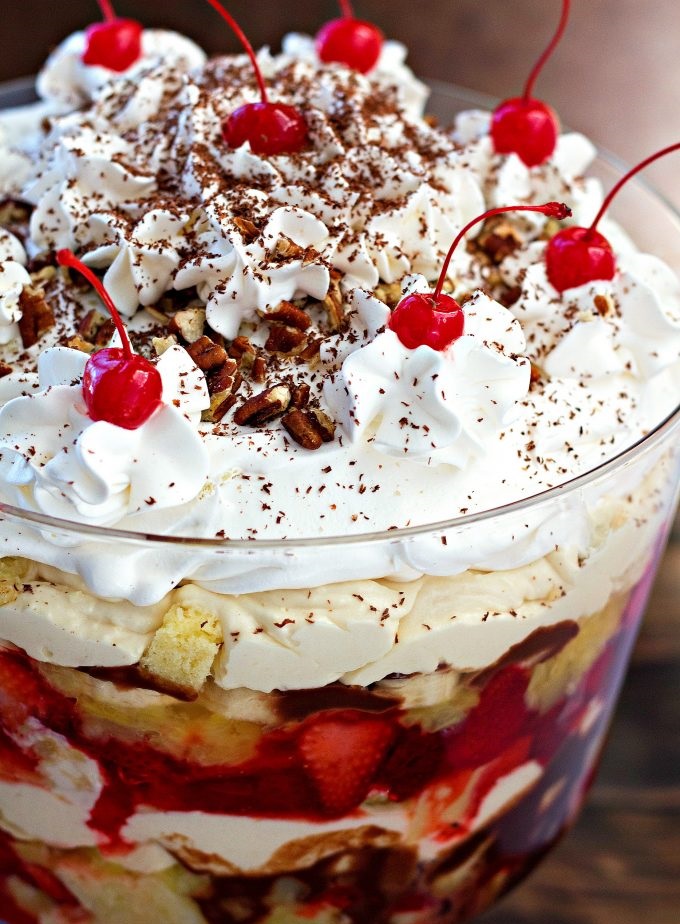 INGREDIENTS
½ cup toasted pecans or walnuts
1 (12 oz) package milk or semi-sweet chocolate chips
1 cup heavy cream
2 (3.4 oz) instant vanilla pudding mix
4 cup whole milk or half & half
2 (8 oz) frozen whipped topping, thawed and divided {Or, 4 cups fresh whipped cream)
1 Pineapple pound cake, cubed (See Cook's note)
1 (20 oz) strawberry pie filling
4 cups sliced fresh strawberries
1 (20 oz) can crushed pineapple in syrup
6 medium bananas, sliced
2 Tbsp grated milk chocolate
Maraschino cherries with stems
INSTRUCTIONS
Preheat the oven to 350°F. Spread the chopped nuts on a baking sheet. Roast for 6-8 minutes then set aside to cool completely.
In a microwave safe bowl, melt together the chocolate chips and heavy cream. Melt in 20-30 second increments stopping to stir each time. Repeat until completely melted then set aside to cool slightly.
In a medium size mixing bowl using a mixer, whip together the pudding mix and cold milk. Whip for 2 minutes or until fully thickened. By hand fold in 1 container of whipped cream. (About 2 cups)
In a separate bowl, mix together the sliced fresh strawberries and strawberry pie filling.
To assemble in a large trifle bowl or glass bowl, layer ⅓ of the cubed pound cake, top with ½ of the strawberries, ½ of the crushed pineapple, 3 sliced bananas. Drizzle the bananas with ⅓ of the chocolate ganache. Spread ⅓ of the pudding over the chocolate drizzle, then repeat until all ingredients are used ending with pudding.
Top with whipped topping and sprinkle with toasted nuts and grated chocolate. Garnish as desired with maraschino cherries. Chill until serving.
Just before serving the trifle warm the remaining ganache and serve on the side for drizzling.
NOTES
For a time saver, a vanilla pound cake from your local bakery could be used in place of the pineapple pound cake.